Final Project Report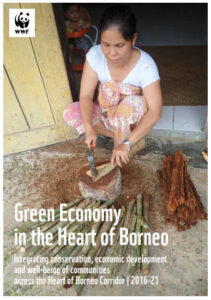 The IKI funded Green Economy in the Heart of Borneo-Project was implemented between 2016 and 2021. During this period, the project encountered several challenges, such as changing political contexts, high turnover of government personnel, and the Covid-19 pandemic. Nevertheless, the project demonstrated overall good progress towards strategy implementation and result achievement. While not all envisioned outputs were realized, the project fostered capacities and collaboration of government institutions, the private sector and local communities as well as indigenous peoples. It has contributed significantly to initiate a shift towards the implementation of a Green Economy in the Heart of Borneo that values and invests in natural capital. The potential benefits of such a shift include reduced poverty, more rapid sustainable growth, stronger local economies and enhanced resilience to climate change.
The final project report summarizes the activities and results of the project, but also the challenges that occur during project implementation. It includes lessons learnt and formulates recommendations for future projects.
---
Newsletter and Articles
---
Panda CLICK! A way to share and engage…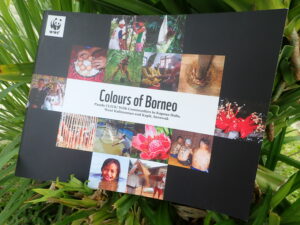 Panda CLICK! is a form of visual communication to document events related to communities and their surrounding environment, and it has been used widely in Indonesia to advocate for positive changes among rural communities. The word panda is synonymous with the World Wide Fund for Nature (WWF) that uses panda as its logo while CLICK! is the acronym for 'Communication Learning towards Innovative Change and Knowledge'.
In this project the concept of Panda CLICK! was brought to local communities both in Sarawak and West-Kalimantan to give them a tool to reflect their existing approach to Green Economy and foster discussions on future ideas regarding it. The Panda CLICK! program itself includes a training for members of local communities in the use of a digital camera. Over an extended period of time, those newly trained photographers, roam their local environment to capture anything they wish to share with the world, their daily activities, cultures and traditions. Communities from eight villages are the main people behind the coffee table book called "Panda CLICK! Colours of Borneo".
---
Oral Literature in the Heart of Borneo Comes to Life!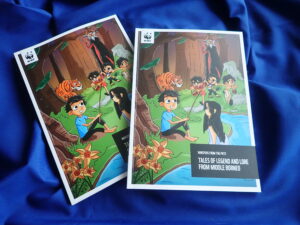 Do we have tigers in Borneo? Who is the most powerful, handsome and strongest mystical warrior to the Iban community? Why do communities have taboos on  wildlife? The indigenous communities in the Heart of Borneo may be able to tell you more!
Whispers from the Past: Tales of Legend and Lore from Middle Borneo is a collection of stories from the indigenous peoples in the Sri Aman and Kapit divisions, Sarawak and Kapuas Hulu, Kalimantan. These stories feature the people's relationship, dependence and respect for nature, age-old customs and social interactions, all of which have been passed down orally through the generations.
---
The Value of Nature: Balancing Conservation, Development, and People in the Heart of Borneo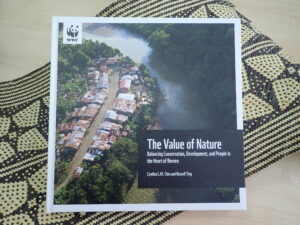 This coffee table book is a representation of the importance of nature within the communities in Sarawak and how they have progressed economically in an environmentally sustainable way. It documents  the livelihoods of different communities,  from pepper farming in Song-Katibas to agarwood tea in Ulu Sungai Menyang and tagang (in situ fish conservation) river management system in Kain River, Baleh. It also sheds light on the cultural relevance of our rich biodiversity. Through ancestral practices, communities have developed their own ways of utilizing natural resources. Alongside mainstream income generating commodities such as timber and energy from hydroelectric dams, activities of recreation to usage of non-timber products such as rattans, fruits and herbs, are equally important. Nature not only provides the resources that fuel the state's growth but is also a commodity for the local communities. The book includes beautiful images of the lives of the people and nature, some of which were captured by the local communities.
This 93-page book collates information of experiences and activities from the field, carried out over a  six-year journey since 2016, jointly by many partners which included the government agencies, private sectors and the communities themselves. The stories tell of how the project did not follow a fixed pathway towards a green economy but rather developed the idea through tests, concepts, and small steps forward. This book provides insights on what the foundations of  a green economy are, and   the framework and working considerations for growth and replication across Sarawak and Borneo. The book concludes with hopes that can inspire future commitment and continuation towards sustainable growth.
---
Commodities for a Green Economy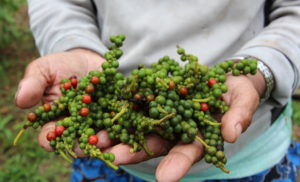 As the project aims for empowering local communities to co-manage natural resources in a sustainable manner and in accordance with a green economy concept, several pilot projects have taken shape:
Sustainable rubber production in Keralak, Kapuas Hulu, Indonesia
Gaharu-Tea plantation in Batang Ai National Park, Sarawak, Malaysia
Sustainable pepper production in Batang Ai National Park, Sarawak, Malaysia
Tagang (a traditional fish conservation approach) at Sungai Kain, Baleh, Kapit
Eco-tourism initiatives in both Sarawak and Kapuas Hulu
---
Project Area in Indonesia: Silat Hilir Agropolitan Area in Kapuas Hulu District, West Kalimantan
Kapuas Hulu is a large district of West Kalimantan which includes landscapes that are part of the Heart of Borneo corridor and faces growing economic developement. The Kapuas Hulu district includes twenty-three sub-districts and is home to traditional communities and includes two large conservation areas (Betung Kerihun and Danau Sentarum national parks).
The Kapuas Hulu district plan developed in 2014 established a framework for three new District Strategic Areas:
an Agropolitan area for ​​Silat Hilir and six surrounding sub-districts;
an ecotourism area for Lake Sentarum National Park; and
a conservation corridor between Lake Sentarum National Park and Betung Kerihun National Park.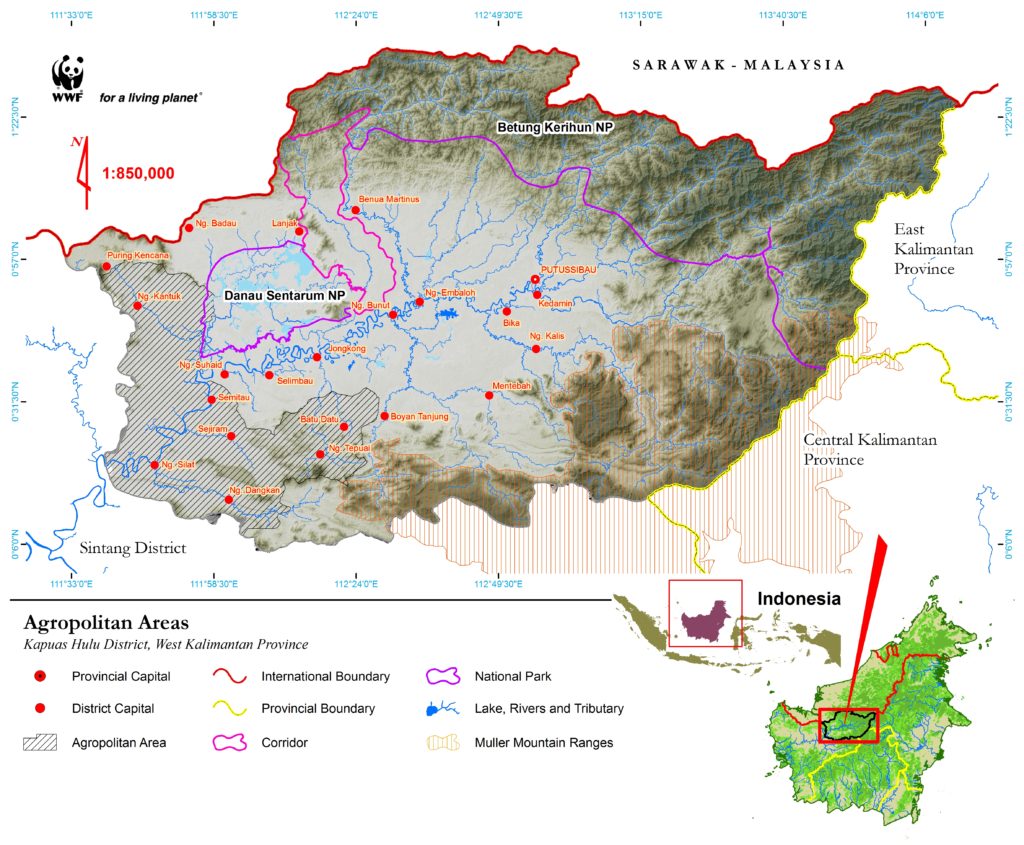 WWF Indonesia is part of a technical working group that is assisting the Kapuas Hulu District Government work though a legislated planning process to develop the Silat Hilir Agropolitan area. To encourage an Agropolitan land use planning process that drives conservation outcomes, WWF Indonesia engaged the Institute of Technology Bandung (ITB) to develop a "Green Agropolitan Area" land use plan.
---
Project Area in Malaysia: Sri Aman and Kapit Divisions in Sarawak
Sarawak is an independent federal state that is subject to very limited national regulations. It is divided into 12 divisions which incorporate districts and sub-districts. However, within Sarawak all important decisions are made at state level and not at district level.
Report on Orangutan Nest Survey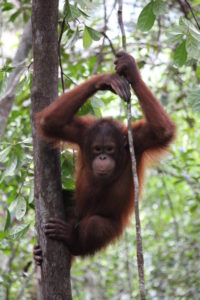 Summary of the report on the orangutan nest surveys in the upper reaches of Katibas river:
About 90% of the viable orang-utan populations are found within the forests of Batang Ai National Park and Lanjak-Entimau Wildlife Sanctuary, and the remaining populations are believed to occupy forests adjacent to the protected areas.
This study was carried out along the upper reaches of Katibas river, and was focused in Chemanong and Pasin buffer strip.
The surveys were conducted in areas where orang-utan were historically found or where residents have reported recent orang-utan presence. In total, seven nests were recorded and all nests were found in Pasin buffer strip.
The next step will be an orang-utan population study in Pasin buffer strip using the Marked Nest Count method.
Watershed Management Plan
The project also developed a Watershed Management Plan for the upper reaches of Batang Ai river. An ecological assessment has been conducted in May 2018 to guide management actions.
---
Transboundary activities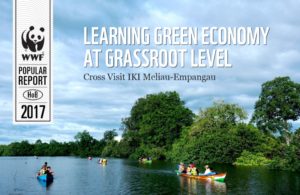 An important part of the Project are cross border visits and workshops between stakeholders from Indonesia and Malaysia, which are an active part of the Heart of Borneo and masterminds for the Green Economy…see for yourself!