General project information
Report on orangutan nest recce survey in upper reaches of Katibas river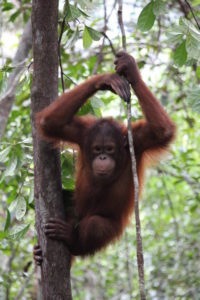 We are happy to present the report on our orangutan nest surveys. Here is a short summary:
About 90% of the viable orang-utan populations are found within the forests of Batang Ai National Park and Lanjak-Entimau Wildlife Sanctuary, and the remaining populations are believed to occupy forests adjacent to the protected areas.
This study was carried out along the upper reaches of Katibas river, and was focused in Chemanong and Pasin buffer strip.
The surveys were conducted in areas where orang-utan were historically found or where residents have reported recent orang-utan presence. In total, seven nests were recorded and all nests were found in Pasin buffer strip.
We will conduct orang-utan population study in Pasin buffer strip next using the Marked Nest Count method.
Have a look at the full report:
Borneo Green Economy Newsletter