The FSC was created in 1993 when a group of businesses, environmentalists and community leaders decided to develop a market-based approach to improve forest practices.  Today, FSC operates in over 80 countries, in close proximity to the timber industry.
The FSC provides certification systems that support the sustainable production and processing of timber products. The FSC is seeking to ensure that the harvest of timber and non-timber products maintains the forest's biodiversity, productivity and ecological processes.
How does the FSC work?
FSC has created a Forest Management certification system and Chain of Custody certification system.  The two systems can be integrated to certify the whole supply chain, or applied independently by timber producers and/or the timber trade. Both systems require independent auditors to verify that FSC-certified products meet the requirements of the FSC Standards, Principles and Criteria.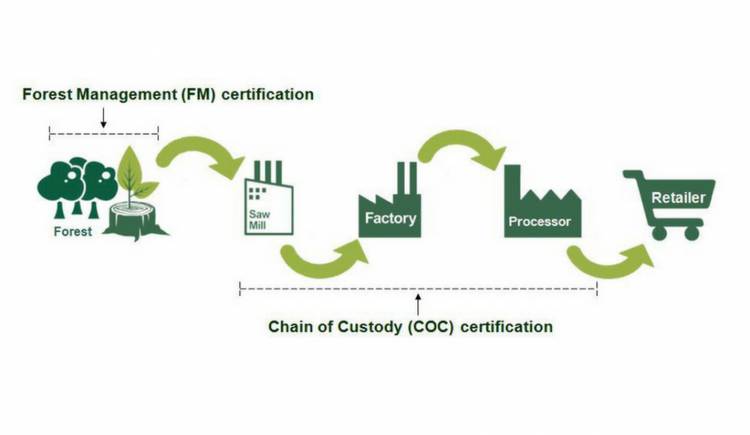 Forestry Management Certification
The ten Forestry Management Principles require organisations to:
comply with all applicable laws; regulations and nationally- ratified international treaties, conventions and agreements.
maintain or enhance the social and economic wellbeing of workers.
identify and uphold indigenous peoples' legal and customary rights of ownership, use and management of land, territories and resources affected by management activities.
contribute to maintaining or enhancing the social and economic wellbeing of local communities.
manage the range of multiple products and services of the forest to maintain or enhance long-term economic viability and the range of environmental and social benefits.
maintain, conserve and/or restore ecosystem services and environmental values of the forest, and shall avoid, repair or mitigate negative environmental impacts.
have a management plan consistent with its policies and objectives and proportionate to scale, intensity and risks of its management activities.
demonstrate that, progress towards achieving the management objectives, the impacts of management activities and the condition of the forest, are monitored and evaluated proportionate to the scale, intensity and risk of management activities, in order to implement adaptive management.
maintain and/or enhance the High Conservation Values in the forest through applying the precautionary approach.
manage and implement activities consistent with the organisation's economic, environmental and social policies and objectives and in compliance with the Principles and Criteria collectively.
Chain of Custody Certification
The Chain of Custody certification system has been designed to assist organisations access markets that are environmentally or socially aware.  Increasingly, Chain of Custody certification is an essential component of supply contracts issued by progressive organisations.  The Chain of Custody certification system is very flexible and it allows the certification of organisations (and their supply chains) or individual projects (e.g. buildings).  The system also has processes to incorporate non-FCS and recycled timber products.